Adapted from the Alexandre Dumas novel by Helen Tolson and Terrence Mann
Thunder Road Theatre Co. in association with Harrogate Theatre Studio
I remember sitting on the window sill in our Viennese flat working my way through Alexandre Dumas' famous novel "The Count of Monte Cristo". I was 13 years old and I struggled with the sheer volume of it. I would read a chapter or two at a time, then lay the book down, but only for a few minutes as the novel was entirely captivating.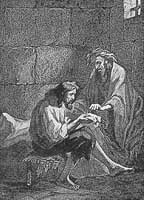 So when I was asked whether I would like to go and see the adaption of Dumas' book on the 10th May I did not hesitate  … and was once again captivated – luckily not like the main character of the play, Edward Dayton, who finds himself all alone in a prison cell. Year after year goes by – cleverly illustrated by the use of lighting and the changing positions of the prisoner – until a fellow prisoner, the Abbé Faria, finds his way into Dayton's cell.
It is only when Edward Dayton finds a book hidden in the wall that the audience realises that the story is not going to follow the original storyline after all. The book is "The Count of Monte Cristo" by Alexandre Dumas and describes, as is well-known, the story of Edmond Dantès, who – falsely accused of high treason – is imprisoned on Château d'If. As time goes by, Edward is influenced by his newly-found friend and tutor, the Abbé, and he becomes more and more convinced that he is Edmond Dantès so much so that he escapes from prison in order to seek revenge.
There were lots of twists in the story which, at times, left you perplexed and confused. It was a great idea, however, to deviate from the original narrative rather than try to adapt more than 1000 pages for the stage. The setting – a simple prison cell – was also cleverly done. Not only did it show Edward's physical confinement; it also illustrated the way he slowly became a prisoner of his own hallucinatory mind.
The play certainly provided food for thought. I had not been to the theatre for quite a while and this play was definitely worth watching. More than that: It was entirely captivating!