A group of YTI members and relatives gathered at the National Media Museum in Bradford on Saturday 9th June in order to watch a 1967 French film, "Les Demoiselles de Rochefort" ("The Young Girls of Rochefort"), directed by Jacques Demy. Demy's most famous film is "The Umbrellas of Cherbourg" (1964), which has become one of the most famous French films of all times, with the music from it still being played very frequently.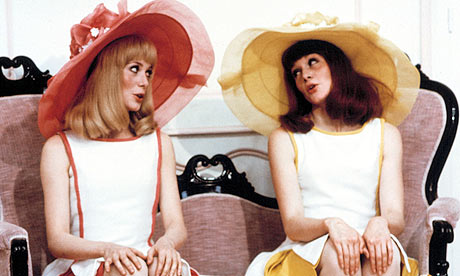 Unfortunately, "Young Girls" has been somewhat overshadowed by the enormous success of this preceding film and it is rarely shown in the UK (with this being the first time even an aspiring cinéaste such as your reviewer had gotten to see it!) This is a great shame, as "Young Girls" is a lovely, absorbing, hugely entertaining and also incredibly funny film. Whereas "Umbrellas" tends to focus on the trials and tribulations of people in love and, in line with its title, conveys an overall image of rain and greyness, "Young Girls" is like a glorious sunny afternoon picnic, packed full of fun and dancing! It is, above all, a French tribute to the vivacity and pizzazz of the American Hollywood musical and this is made abundantly clear by one of its stars being Gene Kelly (of "Singing in the Rain" and "An American in Paris" fame) appearing in what is essentially an extended cameo!
As well as Kelly's superb dance routines, there are other breath-taking performances from other stars of the movie such as George Chakiris (instantly recognisable from having appeared six years earlier in the film version of "West Side Story"). The central stars of the film, though, are the real-life sisters, Catherine Deneuve and the tragic Françoise Dorleac (killed in a car accident (aged only 25) just months after completing this film.) Both look fantastic, in a film which is in any case a real feast for the eyes, and they more than hold their own in terms of dancing, even when appearing on the same bill as the likes of Kelly and Chakiris! The music for the film, as for "Umbrellas", was composed by the French master of modern popular music, Michel Legrand, and has many catchy, tuneful melodies which carry the action through at a cracking pace.
As with the US musicals to which it pays such a fulsome tribute (even though with its tongue firmly in its cheek at times!), the plot of the film (full of parallel stories of lost or aspirational loves by the six primary characters in the film) is not what will primarily concern anyone watching it, although Demy does cleverly play with audience's expectations of 'happy endings' for all the main protagonists right up to the very final closing shot of the film! By the time this shot appeared, two hours had elapsed, but all those in the group agreed that they had experienced a feast for the eyes and ears which had made the outing a thoroughly enjoyable one and provided an excellent opportunity to catch a film rarely shown to UK audiences. Many thanks to Charlotte, whose uncanny ability to pick "winners" for YTI social events had yet again been proven beyond doubt!